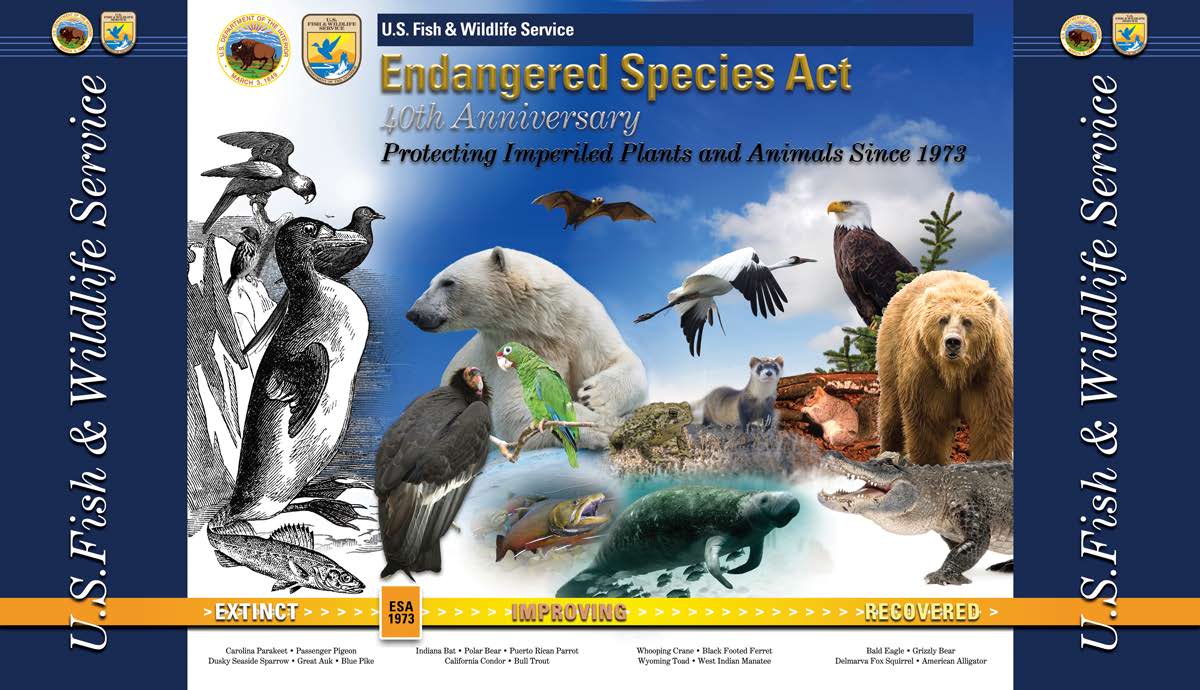 The US Fish and Wildlife Service operates to ensure that species are protected by the Endangered Species Act.
The Endangered Species Act of 1973 (ESA or "The Act"; 16 U.S.C. § 1531 et seq.) is the primary law in the United States for protecting imperiled species. Designed to protect critically imperiled species from extinction as a "consequence of economic growth and development untempered by adequate concern and conservation", the ESA was signed into law by President Richard Nixon on December 28, 1973.
As of January 2019, eighty-five species have been delisted; fifty-four due to recovery, eleven due to extinction, seven due to changes in taxonomic classification practices, six due to discovery of new populations, five due to an error in the listing rule, one due to erroneous data and one due to an amendment to the Endangered Species Act specifically requiring the species delisting. Twenty-five others have been downlisted from "endangered" to "threatened" status.

The National Marine Fisheries Service lists eight species among the most at risk of extinction in the near future. These species are the Atlantic salmon; the Central California Coast coho; the Cook Inlet beluga whale; the Hawaaian monk seal; the Pacific leatherback sea turtle; the Sacramento River winter-run chinook salmon; the Southern resident killer whale; and last, the White abalone. Threats from human activities are the primary cause for most being threatened. The Services have also changed a species' status from threatened to endangered on nine occasions. Such a move indicates that the species is closer to extinction.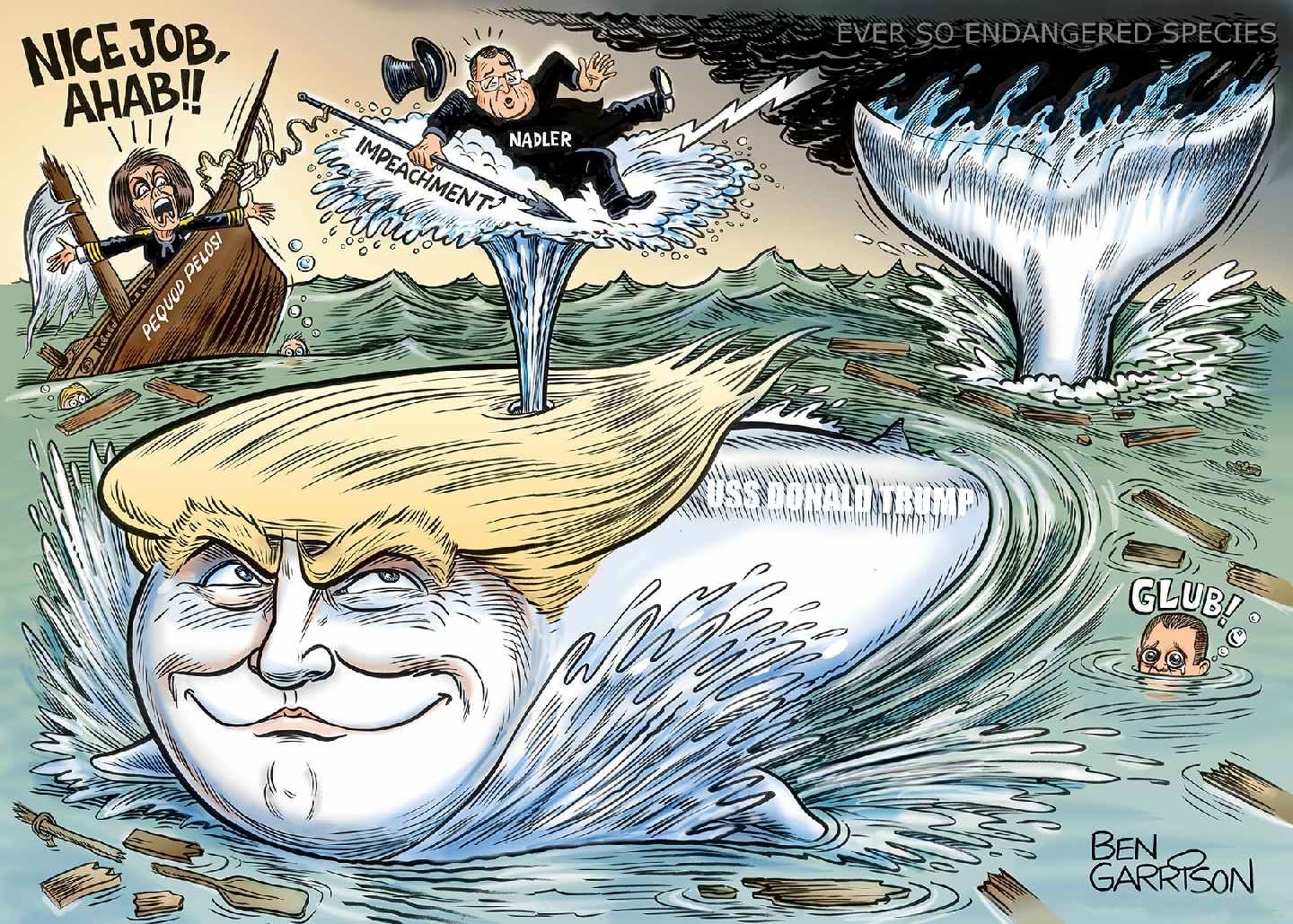 THE INDEPENDENT SEPTEMBER 2019
17 states sue Trump administration over Endangered Species Act changes
Plans to turn back protections for threatened species and habitats challenged

Plans by Donald Trump's administration to change US conservation law are being challenged by 17 states and the cities of Washington DC and New York in court.

The proposed changes to the Endangered Species Act would remove blanket protections for animals whose status has recently been listed as "threatened" status and make it easier for some animals' "protected" status to be removed.

Economic, rather than science-based considerations, would also be used to determine whether federal authorities include new species and habitats on their list of protections.

US Commerce Secretary Wilbur Ross said the changes fit within Mr Trump's mandate "of easing the regulatory burden on the American public, without sacrificing our species' protection and recovery goals."

California is leading the challenge to these changes and has targeted the US Fish and Wildlife Service and the National Marine Fisheries Service in the lawsuit filed in US District Court in San Francisco.

Xavier Becerra, the state's attorney general has been joined in the lawsuit by his counterparts from Massachusetts and Maryland, Maura Healey and Brian Frosh,

Other states joining the suit are Colorado, Connecticut, Illinois, Michigan, Nevada, New Jersey, New Mexico, New York, North Carolina, Oregon, Pennsylvania, Rhode Island, Vermont and Washington.

The Endangered Species Act was implemented under former US President Richard Nixon in 1973, but conservative lawmakers and lobbyists have frequently fought to roll back those rules, which they argue have stifled business development.

The law has helped prevent the extinction of more than 200 species, including bald eagles, grizzly bears and humpback whales. It also protects hundreds of plant and animal species and their habitats.

Sarah Rose, a director at environmental group Audubon California, said the Trump administration's change arrives at "the worst possible time."

She added: "With this lawsuit, Attorney General Becerra is making sure that California is stepping in where the federal government refuses, but that's only a partial solution. We also must ensure that our state laws have the needed strength and flexibility to protect our most vulnerable species from rollbacks by the administration."

In 2018, Mr Becerra also filed a lawsuit against the administration for its changes to the Migratory Bird Act. This month, research published in the science journal Science shows the dramatic decline of North America's bird population over the last five decades, a drop of nearly three billion birds since the 1970s.

This year, the United Nations has issued dire warnings about sea level rise, warming oceans, and the potential extinction of as many as 1 million of the planet's 8 million plant and animal because of humanity's global impact.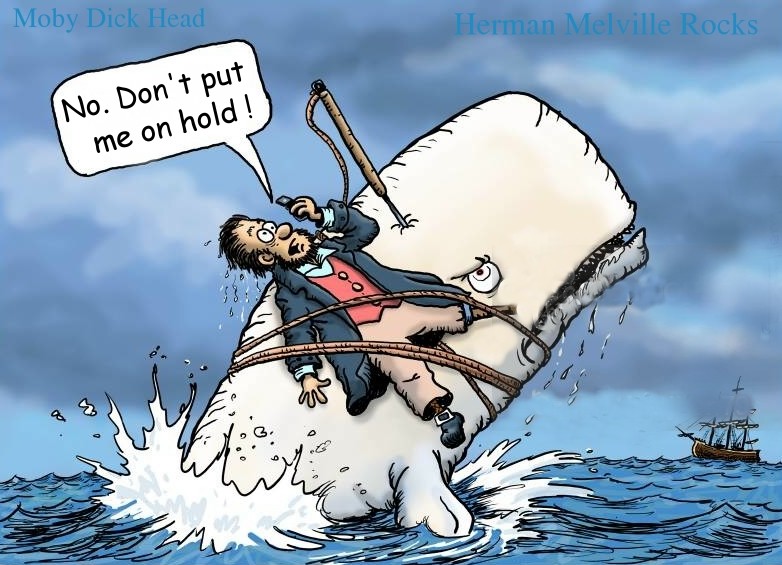 BBC NEWS JULY 2018

The Trump administration has proposed changes to the Endangered Species Act (ESA), a law credited with keeping hundreds of species from going extinct.

The change would eliminate automatic protections for threatened plant and animal species, and make it easier for species to be removed from the list.

Wildlife conservation groups say the proposed change could have disastrous lasting effects on at-risk species.

Trump officials say the change will streamline the regulatory process.

The proposed change is the latest in a series of White House efforts to remove environmental regulations designed to protect vulnerable species and their habitats, as well as leave untouched some of America's most wild places.

Environmentalist groups have reacted with outrage, and the Center for Biological Diversity said "these proposals would slam a wrecking ball into the most crucial protections for our most endangered wildlife".

The list of species is maintained by US Fish and Wildlife and the National Oceanic and Atmospheric Administration, which oversees marine species.

The US government says they want the language clarified to "make it clear that it extends only as far as [wildlife officials] can reasonably determine that both the future threats and the species' response to those threats are probable".

Environmentalists fear the new language will make it possible for government biologists to disregard the long-term effects of climate change on the environment.

The Trump administration wants automatic protections for threatened species to be eliminated and, in the future, to be considered on a case by case basis.

Protections for the California gnatcatcher have barred development across nearly 100,000 acres of land in the Greater Los Angeles area, according to the Los Angeles Times.

If not for their current protections, their native habitat would likely become part of more urban sprawl. [No coincidence perhaps that Trump is/was a property developer and has a lot of developer mates and interests]

The ESA was designed by Congress to say that "the value of life on earth is priceless" and that politicians should not have to decide whether it is "too expensive" to prevent extinction.

"If we made those decisions you can see under different administrations we would end up protecting nothing. Because who knows what a snail is worth? Who knows what a frog is worth?"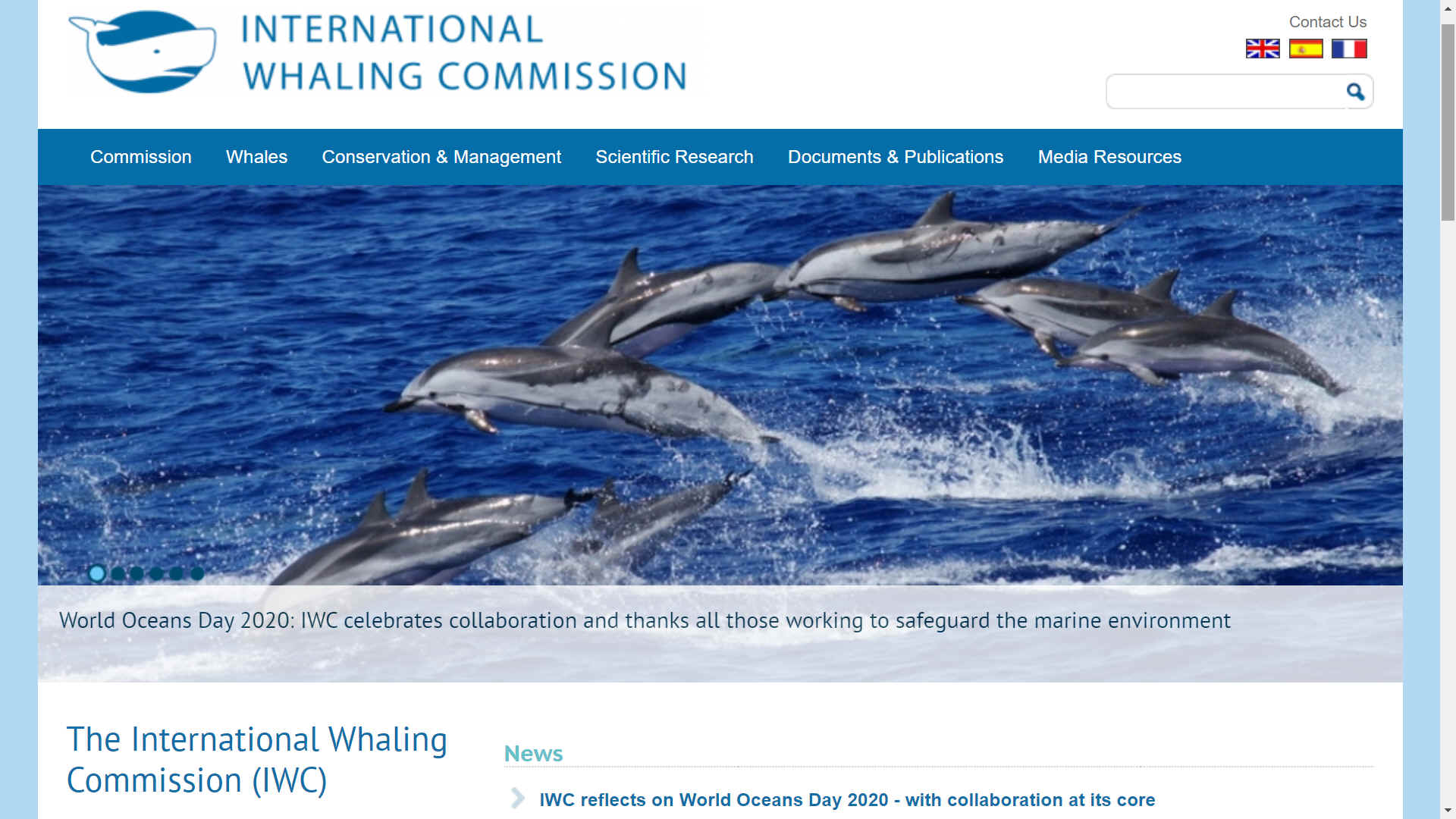 IWC is a voluntary international organization and is not backed up by treaty, therefore, the IWC has substantial practical limitations on its authority. First, any member countries are free to simply leave the organization and declare themselves not bound by it if they so wish. Second, any member state may opt out of any specific IWC regulation by lodging a formal objection to it within 90 days of the regulation coming into force (such provisions are common in international agreements, on the logic that it is preferable to have parties remain within the agreements than opt out altogether). Third, the IWC has no ability to enforce any of its decisions through penalty imposition.
LINKS & REFERENCE
https://www.bbc.co.uk/news/world-us-canada-44892275
https://www.independent.co.uk/news/world/americas/trump-endangered-species-lawsuit-california-a9120761.html
Please use our A-Z INDEX to navigate this site