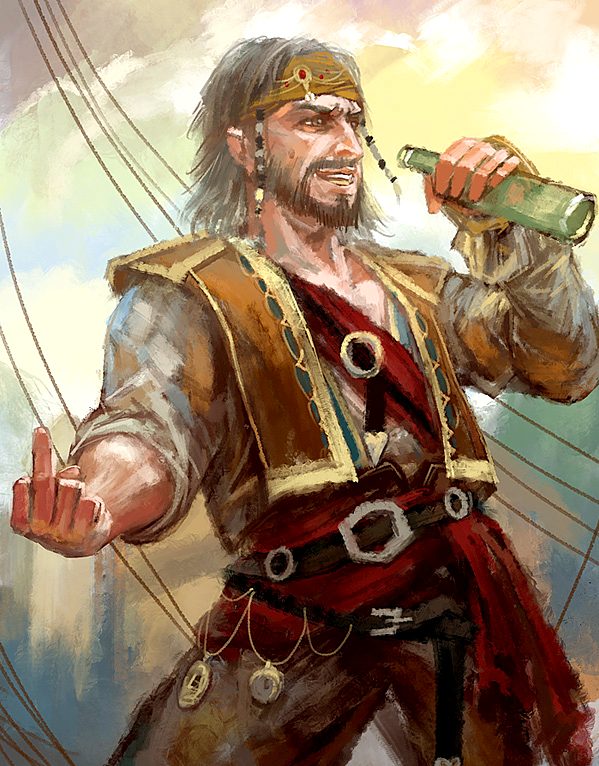 Jack Rackham had an affair with female pirate Anne Bonny
Calico Jack was born in 1682, as John "Jack" Rackham, more commonly known as Calico Jack. He was a Jamaican-born British pirate who operated in the West Indies during the early 18th century. In his short career he did not manage to amass incredible wealth or respect, but his associations with other pirates, including two female crew members (who dressed as men), managed to make him one of the most renowned pirates of all time.

Rackham is perhaps most famous for his relations with the female pirate, Irish redhead, Anne Bonny. Rackham began an affair with Anne who was at the time the wife of sailor employed by Governor Rogers. Anne's husband James Bonny learned about the relationship and brought Anne to Governor Rogers, who ordered her whipped on charges of adultery.

When Rackham's offer to buy Anne in a "divorce by purchase" was sternly refused, the pair fled from Nassau. They escaped to sea together and sailed the Caribbean for two months, taking over other pirate ships. Anne soon became pregnant and went to Cuba to have the child.
Rackham made a career of plundering small vessels close to shore once he became captain. He and his crew captured the Kingston, a small Jamaican vessel, and made it their flagship. They made several conquests in the West Indies, taking a couple of large ships off Bermuda.

In 1719, Rackham sailed into Nassau in the Bahamas, taking advantage of a general amnesty for pirates to obtain a royal pardon and commission from Governor Woodes Rogers. Rogers had been sent to the Bahamas to address the problem of pirates in the Caribbean who had started to attack and steal from British ships.

In December, he captured the merchant ship Kingston. The Kingston had a rich cargo, and promised to be a big score for Rackham and his crew. Unfortunately for him, the Kingston had been taken within sight of Port Royal, where outraged merchants outfitted bounty hunters to go after him. They caught up with him in February 1719, while his ship and the Kingston were anchored at Isla de los Pinos off Cuba. Rackham and most of his men were on shore at the time, and they escaped capture by hiding in the woods—but their ship and rich trophy were taken away.

Captain Charles Johnson describes how Rackham stole a sloop in his seminal 1724 book A General History of the Robberies and Murders of the most notorious Pyrates. Rackham and his men were at a town in Cuba refitting their small sloop when a Spanish warship charged with patrolling the Cuban coast entered the harbour, along with a small English sloop which they had captured. The Spanish warship saw the pirates but could not get at them at low tide, so they anchored in the harbour entrance to wait for morning. That night, Rackham and his men rowed over to the captured English sloop and overpowered the Spanish guards there. As dawn broke, the warship began blasting Rackham's old ship, now empty, as Rackham and his men silently sailed past in their new prize.

Rackham and his men made their way back to Nassau, where they appeared before Governor Rogers and asked for the royal pardon, claiming that Charles Vane had forced them to become pirates. Rogers hated Vane and chose to believe them, granting them the pardon and allowing them to stay. Their time as honest men, however, did not last long.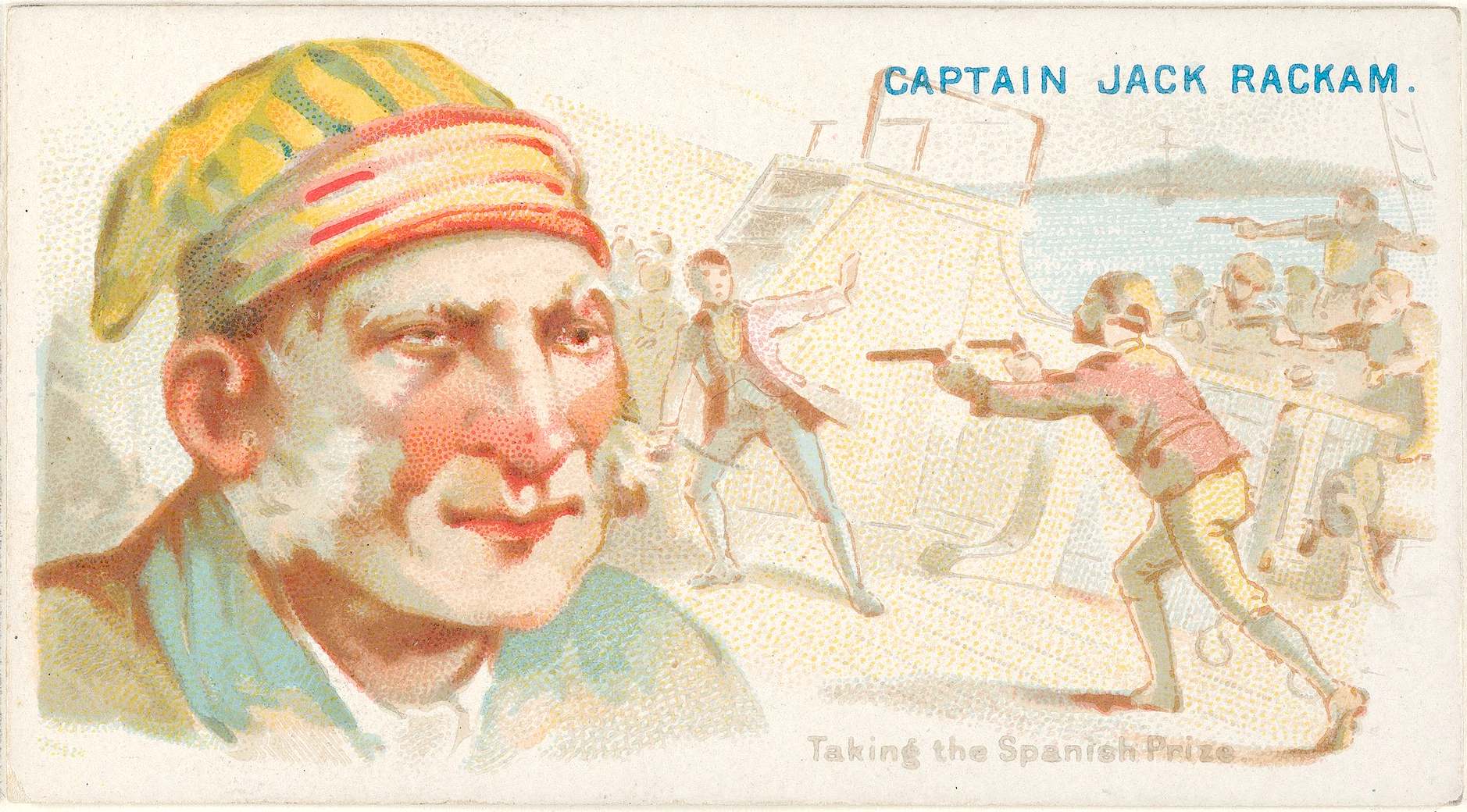 In September 1720, the Bahamas' Governor Woodes Rogers issued a proclamation declaring Rackham and his crew wanted pirates. After publication of the warrant, the pirate and bounty hunter Jonathan Barnet and Jean Bonadvis started in pursuit of Rackham who was cruising near Jamaica capturing numerous small fishing vessels and terrorizing fishermen along the northern Jamaican coastline.

Rackham and his crew had been sailing west, towards Negril. On or around October 31, 1720 Rackham's sloop was laid at anchor and fired a gun which caught the attention of Jean Bonadvis' sloop. Bonadvis reported this to Barnet who sailed to investigate the sloop. At 10 PM Barnet called out to the sloop and inquired who they were. The reply was "John Rackham from Cuba" and Barnet immediately ordered him to strike his colors. Someone (Barnet testified that because of it being so dark he could not identify who) replied that they would not surrender and fired a swivel gun at Barnet's sloop. Barnet ordered a broadside which destroyed the boom on Rackham's ship and his crew called for quarter, after a fight presumably led by Mary Read and Anne Bonny. Rackham and his crew were put ashore at Davis's Cove near Lucea, Jamaica where Major Richard James, a militia officer, placed them under arrest.
At Spanish Town, Jamaica, in November 1720 yhey were tried and convicted of piracy and sentenced to be hanged.

Rackham was executed in Port Royal on 18 November 1720, his body then gibbeted on display on a very small islet at a main entrance to Port Royal now known as Rackham's Cay. Such a depiction is seen in Pirates of the Caribbean, Curse of the Black Pearl.

Please use our A-Z INDEX to navigate this site